H-MAN
First truly portable clinically validated arm rehabilitation robot for minimally supervised assessment and rehabilitation throughout the continuum of care – from hospital to patients' home.
Continuum of Rehabilitation
H-MAN is the first truly portable, clinically validated arm rehabilitation device which is compatible in both professional and home healthcare environment. With H-MAN, users can now experience quality and independent training even at the comfort of their own home.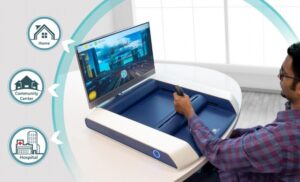 Highlights:
The H-MAN is clinically validated to reduce the workload of therapists by as much as ~65%
Designed with healthcare providers in mind, H-MAN is easily transportable and requires minimal footprint for rehabilitation without compromising on the quality of training.
It is a supremely compact and portable robotic rehabilitation device suitable for use in homes, hospitals and community centres.
The H-MAN comes equipped with a modular, and compatible with carefully designed handles to support various training needs for maximum therapeutic benefits.
Engaging Games
We aim to make your rehabilitation journey as enjoyable as possible. Through the integrated Care Platform, users can access a library of games designed to meet specific training needs. Whether it is strength or coordination training, these visually engaging games are designed to make therapy fun and interactive!