Axilum Robotics TMS-Robot 
The first robot developed specifically to assist researchers and health care professionals for the positioning of a Transcranial Magnetic Stimulation coil. It includes a 7 degree-of-freedom robotic arm and a 2 degree-of-freedom, computer-controlled patient seat.
Axilum Robotics TMS-Robot, in combination with a compatible neuronavigation system and a compatible coil connected to its own stimulator, allows the automatic execution of an image guided TMS session planned in advance. Once the stimulation targets and coil self-rotation have been defined in the neuronavigation system, Axilum Robotics TMS-Robot positions the coil tangentially at these targets, ensures contact between coil and head, and compensates for any head movements during the session, keeping the coil position and orientation with respect to the brain.
Highlights:
Large Workspace
Accuracy and Repeatability
Coil Orientation Control
Head Motion Compensation
Contact Detection and Control
Safety
Ergonomic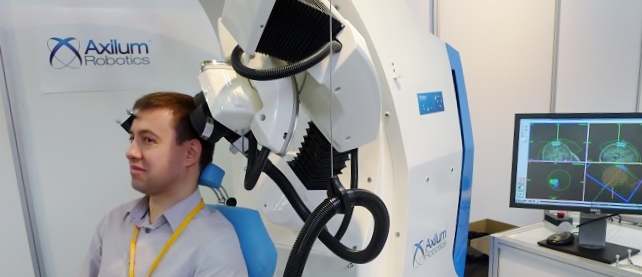 Axilum Robotics TMS-Cobot 
Intended to control the positioning, the orientation and the contact of a compatible TMS coil under the supervision of an optical tracking system (no MRI) or a compatible neuronavigation system (MRI).
TMS-Cobit is an affordable robotic solution, with head motion compensation, to improve the precision of the procedure while delivering the operator from a demanding and repetitive task and reducing the constraints for the patient.
It is important for the user to maximize the chance to deliver the stimulation dose at the right location and TMS-Cobot make this possible.
Highlights:
Keeps the position and the orientation of TMS
Compensates for head motion
Ensures permanent contact between coil and head
Compatible with any chair
Lightweight and highly mobile
Ergonomic
Improves accuracy and repeatability
Delivers the operator from a repetitive, painful and and time consuming task