Optical Mapping System
Our optical mapping system is optimised with high-speed and high quantum efficiency scientific cameras and a closed up optical path to ensure a low noise to signal ratio and a high spatiotemporal resolution. It is particularly designed to record fluorescent changes on the epicardial surface of isolated Langendorff-perfused hearts (loaded with voltage and (or)  calcium sensitive dyes) for understanding of cardiac electrophysiology and the mechanisms of complex arrhythmias.
MappingLab Ltd provides standard OMS-PCIE-1001, OMS-PCIE-1002 and OMSPCIE-2002 system as well as tailor-made systems. Dual signal optical mapping systems are suitable to record cardiac membrane potential and calcium imaging simultaneously. Our latest optical mapping system is equipped with the back Illuminated scientific CMOS cameras with 95% quantum efficiency (QE) and pixel size of 6.5 μm x 6.5 μm to 11 μm x 11 μm. It has a high speed and low noise acquisition with a dynamic range up to 50,000:1(94 dB). The optical axis can be constructed either vertically or horizontally. There are various I/O connectors for helping researchers to set up the communication system.  A 8-channel TTL controller is designed for synchronizing devices such as camera, LED light controller, stimulator, ECG, MAP, pressure and temperature probe with the optical mapping system. The OMapRecord/Scope is an advanced data acquisition and analysis software which has an user-friendly intuitive interface and highly efficient data management.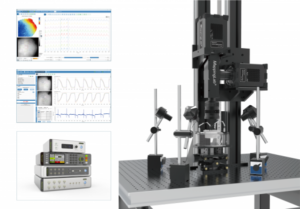 Detect area: 5 to 30 cm
Maximum resolution: 512*512 pixels.
Dynamic range up to 50,000:1(94 dB)
Sampling rate up 3.5 kHz with resolution 32*32 pixels.
ROI frame rate: up to 3.5 kHz.
12 bit depth per pixel.
TTL synchronization precision: higher than 100μs.
Time-lapse imaging.
Customized ancillary devices
USB 3.0 or PCIE
OMapRecord: An advanced optical data recording software. Its distinctive features are particularly programmed to help researchers smoothly and independently run experiments.
OMapScope: An advanced user-friendly software for optical data analysis. It is designed for researchers to free from manual tasks, save time and easily deal with large amounts of qualitative data, so only one click is needed for the most analyzing functions. It also supports RSH and RHD data file formats for researchers using different optical mapping system.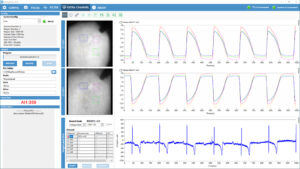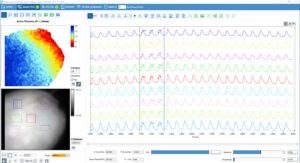 Windows 7, 8, 10 and Mac OS X
HARDWARE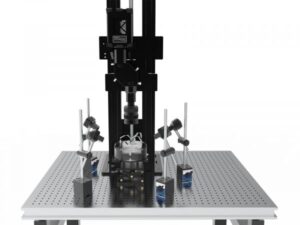 OMS-PCIE-1001, OMS-PCIE-1002 and OMS-PCIE-2002: There is one CMOS camera fitted in OMS-PCIE-1001 and OMS-PCIE-1002. The difference between them is that the former can only acquire a single fluorescent signal,i.e. calcium or membrane potential whereas the latter can acquire two fluorescent signals simultaneously. However, OMS-PCIE-2002 has two CMOS cameras in the system to record calcium and membrane potential respectively and simultaneously. In principle, OMS-PCIE-2002 is the better choice for the dual signal recording due to higher resolution and less signal attenuation.